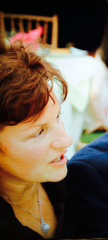 Caroline Taylor is the founder of 'more for kids', one of the first UK companies specialising in fashion clothing for larger than average children.
After leaving school at 16 Caroline Taylor joined Marks & Spencer where she enjoyed a career spanning 20+ years. She started out as a sales assistant and after various clerical roles spent the majority of her working life in buying and product development.
Caroline Taylor went on to lead the design and development team for one of the UK's largest wholesalers of timepieces, supplying leading retailers such as Marks & Spencer, Next and Debenhams. Through working with factories and design teams globally over many years, Caroline Taylor has developed a wealth of knowledge in bringing concepts and ideas to market.
Caroline always had an ambition to start her own business. Her idea for 'more for kids' was inspired by the struggle and frustration she and her own larger than average children experienced in being unable to find clothes similar to those their friends were wearing.
Having struggled to find clothing for her own children, she decided to use her expertise in the fashion industry to launch 'more for kids' and fill a gap in the market for larger fitting children's clothing. 'more for kids' offers a cohesive range of comfortable, fashionable, flattering clothes that larger kids love.
Over a third of children in the UK are larger than average. Caroline Taylor's philosophy is that these children, regardless of their shape and size, should be able to fit in with their peers by having suitable clothing options available to them.
Caroline Taylor believes that we should all aspire to achieve a healthy lifestyle. Having said that, we know that children and adults struggle to achieve this. By denying suitable clothing options, there's a risk of children carrying a negative body image through to adulthood.
The 'more for kids' collection can be viewed at, https://moreforkidsuk.com/shop/.